Residential

Garage Doors and Gates
We sevice all manner of garage doors and gates of home residences. Whether you need a garage door replacement, new installation, or service, Empire Garage Doors and Gates can handle you needs.
Garage Doors
Whether in wood or steel and glass, we can install, repair, and maintain your home garage doors. We can install pedestrian gates and side yard gates to match your garage.
We use quality manufacturer parts to ensure long life to our garage door installations and repairs.
Garage Door Hardware
If you need speciality hardware on your garage door or entrance gate to match the look and style of your home, we can help you.
Whether your look is modern such as shown in the far column or rustic, our manufacturers have an enormous selection.
Residential Split Gates
We have an extensive selection of gate styles: wood, steel, and wrought iron. If you don't see something you like, you may decide to design your own gate style and we would be happy to help you.
We can install and maintain your gates over their lifetime. Ask about our annual, biannual, or quartely maintenance programs.
Chain Link Sliding Gates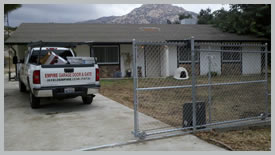 One of the most utilitarian residential gates for yards and ranch-homes is the chain-link sliding gate.
The chain-link sliding gate has the advantages of supporting its weight on rollers, is a one-piece gate, and has a minimal foot print as it does not swing into or out of the property.
Residential

Installation