Commercial

Garage Doors and Gates
Empire Garage Doors and Gates has the equipment and experience to maintain, repair and install commercial doors for any type of building.
Commercial Garage Doors
Commercial doors come in a myriad of styles and we can service and install them all.
The photo on the left is of a steel-link roll-up door that has a small footprint for any garage door opening. The open links allow autos that may be coming and going at the same time to see one another.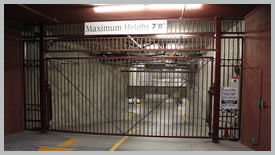 Flip-Up Gates
Often underground parking areas for commercial buildings, condominium complexes, and apartment buildings have little overhead space and requires a flip-up style gate.
A gate made of welded steel is rugged, allows visibility for vehicles approaching from both sides and allows air flow especially for the fumes from running vehicles.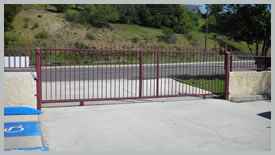 Rolling Gates
Rolling gates allow wide access areas for commercial buildings, industrial yards, and churches, for instance.
They can be placed near a walkway or street without infringing on the street or the traffic leaving the parking area. This maximizes the available entry and exit space.
Specialty Gates and Garage Doors
Often retail stores, commercial buildings, and condominiums request specialty gates. Empire Garage Doors and Gates has the experience to manage all aspects of these projects.
The installation in the photo to the right is for a sidewalk retail store that wanted customers to have easy access to service during business hours.
To the left is a photo of a very large steel, sectional door at a commercial building.
And in the photos at the far right show how a large roll up gate is installed at a retail commercial building with the aid of a scissor-lift.
Whatever your gate or garage needs, call Empire Garage Doors and Gates for honest and experienced advice.
Commercial

Door